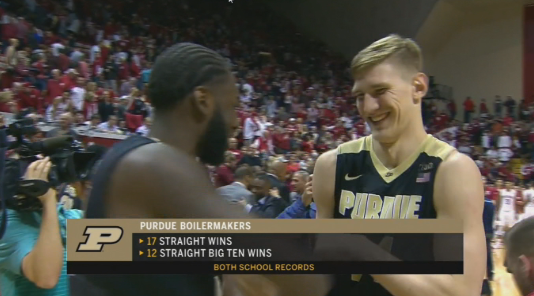 No. 3 Purdue set a school record grabbing it's 17th straight victory in a, 74-67, edging at rival Indiana.
In a highly contested game, one man stood above the rest.
Boilermakers senior center Isaac Haas scored a game-high 26 points with 17 rebounds, using his seven-foot-two height to his advantage.
"They also had to double a couple of times, and in those instances, I found Vince, I found Dakota, I found P.J., just found the open guy, and they had to pick their poison," Haas said after the rivalry win.
Purdue forward Vincent Edwards chimed in with 19 points himself, but on Sunday afternoon, Purdue's three-ball wasn't falling the way it usually does.
"Credit him for stepping up," Edwards said.
"Isaac did a good job down low, stepping up and just making baskets when we need him."
Purdue aims to stay undefeated in Big Ten play, hosting Maryland, Wednesday night at 8:30 p.m.