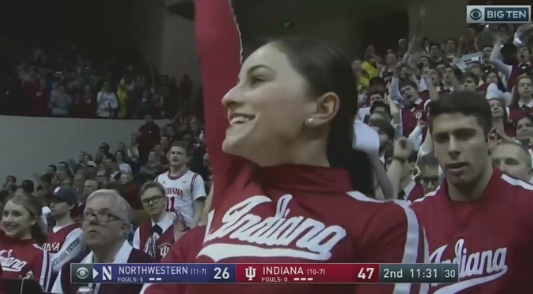 It's a case of one team free-falling.
The other one on fire.
The Indiana Hoosiers are on the right end of the spectrum as they head to East Lansing to take on No. 9 Michigan State Friday night.
Under first-year head coach Archie Miller, the start of the season was a bit of a scuffle, but the team is rounding into form with seniors like Robert Johnson and Josh Newkirk, most recently, playing some of their best ball in crimson, winning five of their last six games.
"You know any time that we are able to get better from game to game, you always get more confidence," Johnson said at Thursday's press conference.
"I think we have done a good job of trying to take that over to practice, and hopefully, we can continue."
Johnson and Newkirk, along with the steady Juwan Morgan, will need to continue to produce at high levels on the road against a talented but vulnerable Spartans squad.
"We just playing freely," Newkirk said.
"Everybody is connected. We just know where to find each other."
Coach Miller likes what he sees.
"I think our confidence is growing," Miller said.
"It's going to get hard, but at the same time, you have some older guys, you know."
"When you are a senior, and you have about a month of college you're going to give everything you have right now."
The Hoosiers do have the senior leadership, lacking on Michigan State's side.
The Spartans may come out with aggression, as they just fell at home to their rival Michigan.
The Hoosiers will try to weather the storm at the Breslin Center at 7 p.m.